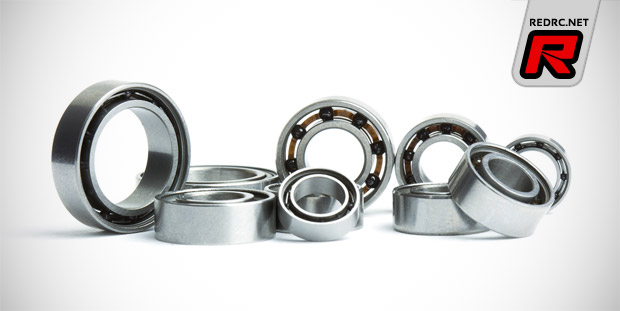 Avid have introduced their new Aura bearing line. Taking what they learned from their rear ceramic engine bearings they shrunk that technology down to offer the most advanced bearings to be used in the gearbox of popular 2wd 10th scale off-road vehicles. These bearings have no seals, a high speed nylon ball retainer, SiN34 ceramic balls, tighter tolerances and high-speed oil and was developed for the racers that enjoy maintaining their equipment and don't mind spending a little extra to have the best performance available. They are not stopping with just gearbox kits either and will be rolling out the Aura bearing with different seal options for those that would like to use them throughout their whole vehicle. Bearing kits are currently available for a wide range of 2wd buggies.
Source: Avid [avidrc.com]
Wednesday, August 20, 2014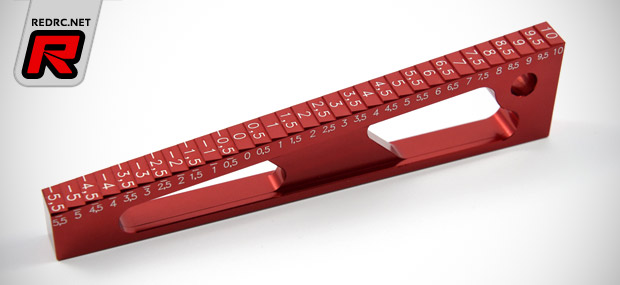 Italian brand Capricorn have released some new items including some setup tools and a part for the C801. First up are the new red anodised aluminium droop gauge and setup blocks as well as a ride height gauge. The droop gauge measures from -5.5mm to 10mm in 0.5mm increments, while the ride height gauge has a range from 3mm to 10mm, also in 0.5mm increments. For the C801 is a new front bumper, as used by Dario Balestri to win the recent Euros, which they claim helps improve the car's reactiveness on the fast corners and improves the car's accuracy in the slow parts of the track thanks to the way it funnels the air on its bottom side.
Wednesday, August 20, 2014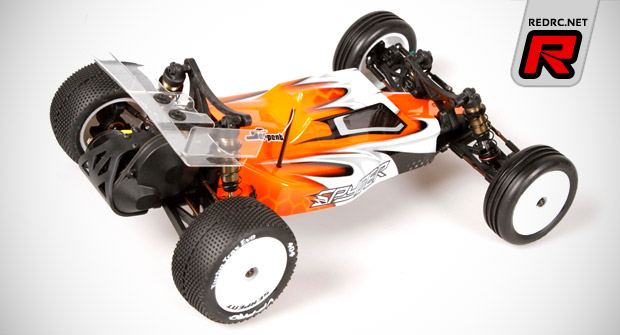 Serpent have released details of the Ready to Race Spyder 1/10 rear motor Buggy. The RTR Spyder buggy is based on the high end competition version of the Spyder RM buggy and shares most components and geometry. All option parts of the race version also fit the RTR version. The RTR version comes supplied with Dragon RC electronics, servo and tires. Release date is expected to be end of August.
Wednesday, August 20, 2014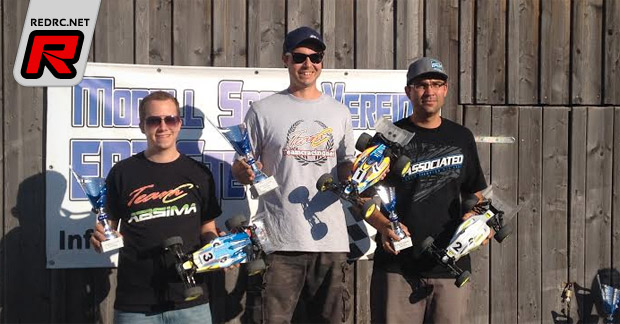 The 3rd round of the Austrian Nationals were held on the high-speed full concrete track of the ERT Steyregg. Only because of the unique surface were racers able to practise on Saturday even if it was raining most of the day. On Sunday the weather was a lot better and the track was dry the whole day. Hupo Honigl took the TQ spot in 2wd ahead of Peter Pinisch with Team C team mate Martin Kreil in 3rd. 4wd qualifying was even better for Team C with Hupo taking the TQ with Martin in 2nd and Marcus Prihoda in 3rd. The mains had some good battles and in the end Hupo would win 2wd in front of Martin and in the reverse order for 4wd. With this result Honigl was able to secure the overall National Championship in both classes with one race to spare.
Wednesday, August 20, 2014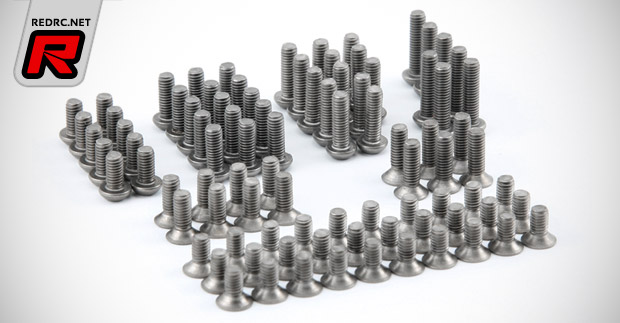 Team Shepherd have released new titanium screw sets for the Velox V10 "PRO" and the Velox V8 "EC". These premium titanium screws are machined from the highest grade raw material and compared to the standard screws, these titanium versions are about 45% lighter and lower the overall weight significantly. They are available in 3×6, 3×8, 3×10, 3×12, 4×8 and 4×10mm countersunk versions and 3×6, 3×8, 3×10 and 3×12mm button head versions and as complete sets.
Source: Shepherd [team-shepherd.com]
Wednesday, August 20, 2014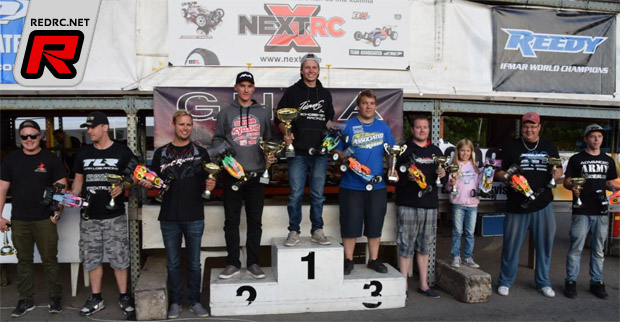 The Swedish 1/10th offroad Nationals were held at MHC Skarpnacks near Stockholm on their high grip astro turf surfaced track. In the 2wd class on Saturday it was Kyosho star David Ronnefalk, fresh from his Euros win in Germany the previous week, that took the top spot in qualifying head of Team C's Oskar Levin in 2nd. Oskar took the win in leg 1 ahead of Niclas Mansson (Associated) and Ronnefalk, while in leg 2 it was a bad run for Levin taking 4th with Ronnefalk with the win and again Mansson in 2nd. This setup a showdown for A3 which Oskar won to take the overall win and Swedish title. Mansson was again 2nd with UK driver Simon Moss (Schumacher) 3rd. The result gave Ronnefalk the runner up position with Mansson taking 3rd. In 4wd David Ronnefalk would take the top spot in qualifying again ahead of Levin 2nd. David would this time convert his grid spot into the win, wrapping up the overall win and title with victory in the first two mains leaving Oskar to win the 3rd main and take the runner up spot with Mansson again taking 3rd overall.
Wednesday, August 20, 2014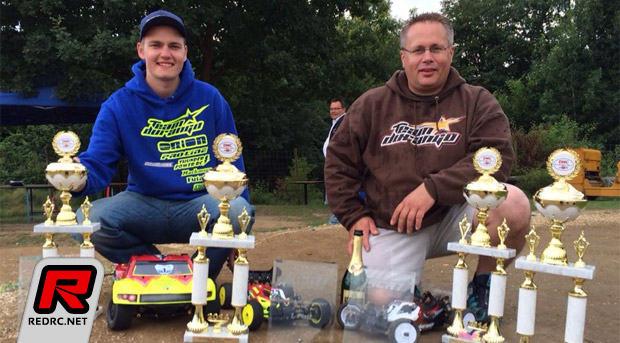 The German 1/10 Off-Road National Championships were held last weekend in Duisburg and despite the wet conditions that plagued buggy practice and the qualifying rounds during the first day of the two day competition, Jörn Neumann was able to take TQ in both the 4wd buggy and 4wd SC classes. The recently crowned European Champion was unchallenged in the finals for both classes and was able to take a clear win in both. Fellow Durango driver and designer Gerd Strenge was also able to take the win in the stock class giving Durango the win in all three classes.
Source: Durango [team-durango.com]
Wednesday, August 20, 2014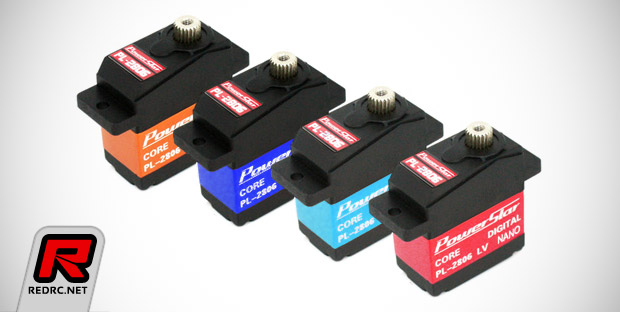 New from Power Star is their latest digital servo, the PL-2806. It features a plastic case, stainless steel / titanium gears and core motor with speeds of 0.10sec and 0.06sec at 4.8v and 6.0v respectively as well as torque at 1.95kg/cm and 2.8kg/cm. Only 23 x 12.3 x 25.7mm it is available in four colors red, blue, light blue and orange.
Source: Power Star [powerstar-racing.com]
Wednesday, August 20, 2014