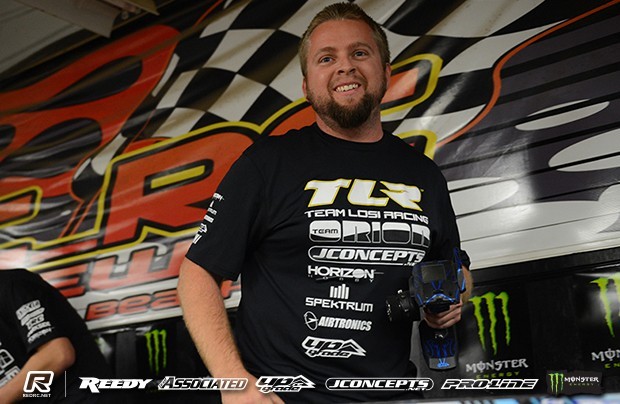 Ryan Maifield has finally won the much coveted Reedy Race of Champions, the TLR driver winning the 21st running of the very event that gave him his first break in a sport in which he would become one of the world's greatest offroad drivers.  Like last year's running of the event at OCRC Raceway in Huntington Beach,  Maifield went into the final round of racing as the points leader only this time it was Jared Tebo, not defending back to back champion Ryan Cavalieri, who was his only challenger.  With a 2-point deficit, the pressure lay on Tebo going into the deciding round with the Kyosho driver's race up first.  Needing a Top 2 finish to have a chance at his first Reedy title it wasn't to be with both Cavalieri and Carson Wernimont seeing off his efforts leaving the World Champion to finish third. Maifield, irrespective of the outcome of his final race, was going to become the 15th different name to be engraved on the Reedy Race trophy but in true Maifield style he wanted to end with a win. Despite a tough start the ever spectacular driver recovered to do just that with his overall win coming 3-points ahead of Tebo with Cavalieri completing the podium a further point off.
Continue reading this report here or view our full event coverage here.
Monday, January 26, 2015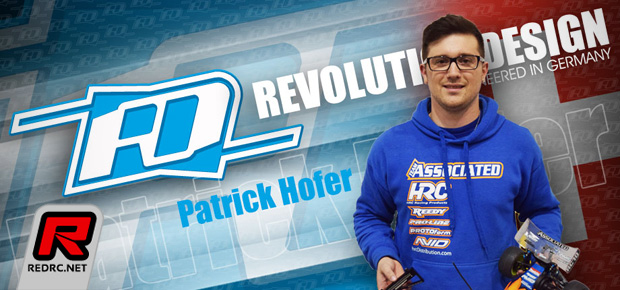 Swiss frontrunner, multiple Swiss champion and Team Associated factory driver Patrick Hofer has signed a contract with Revolution Design Racing Products to run the brand's Ultra line of tools and the new RDRP Team Associated B5 series option parts in his upcoming campaign. Patrick is one of the, if not the fastest 1/10th electric off-road racer in Switzerland and he will be a nice asset to RDRP's team of talented racers.
Source: RDRP [revolution-rc.com]
Monday, January 26, 2015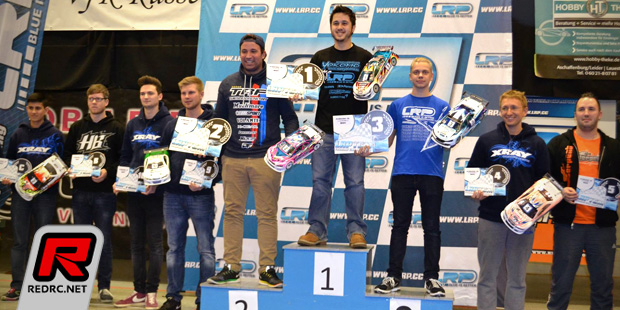 The 2015 edition of the LRP Touring Car Masters was held this past weekend in Rüsselsheim, Germany with over 250 entries. The Masters class win went to Yokomo's Ronald Völker who also grabbed the TQ after the qualifiers. Triple ISTC Touring Car World Champion Marc Rheinard (Tamiya) made a late entry for the race and secured himself the runner-up spot in front of last year's Master class winner Viljami Kutvonen (Awesomatix).
Click here to continue reading
Monday, January 26, 2015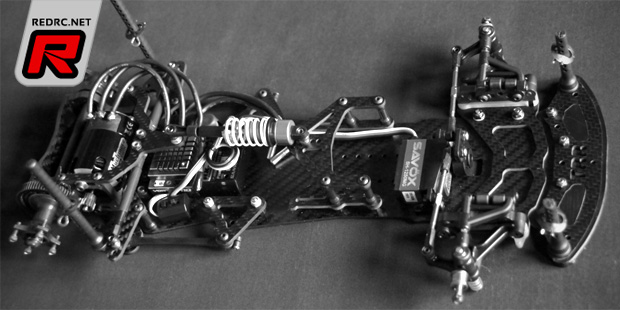 Following TRR-Racestuff's 235mm conversion kit for the Team Associated 10R5.1 the German company now also have a narrow chassis conversion available that retains the standard 200mm width and is compatible with the kit's standard parts. The conversion includes a slim 2.5mm carbon fibre main chassis plate, new 2.5mm sidelink wings, a front LiPo rail for 1S and 2S shorty LiPo packs, hexagonal chassis standoffs and the needed shims. The chassis allows to three different sidelink configurations; a hanging layout with parallel links, angled chassis-mounted links that open toward the power pod and a third variant using an optional lower power pod plate that allows to run angled links that close towards the power pod. The kit greatly increases the setup potential of Team Associated's World GT car and the conversion becomes available by end of January.
Click here to view more photos
Monday, January 26, 2015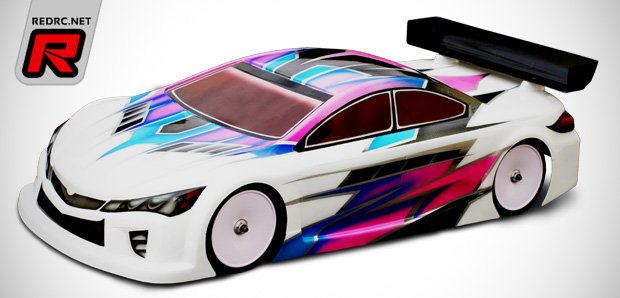 Team Titan introduce the new Blitz ALS-R bodyshell for 190mm electric touring cars. With the level of competitive racing increasing and the wide variety of track conditions faced by touring car racers there has been an increasing need to design shells to suit specific conditions. The ALS-R has been designed with less overall down force for high traction asphalt and carpet tracks, and will help increase top speed and reduce traction rolling, with aggressive steering response to ensure high corner speeds. The specifications meet IFMAR, BRCA and GBS body rules and the body will become available in a standard 0.8mm, lightweight 0.7mm and super lightweight 0.5mm variant. All are made from high-quality polycarbonate and they come clear, including window masks, a decal sheet with two styles of headlights and wing mounting hardware.
Click here to view another photo
Monday, January 26, 2015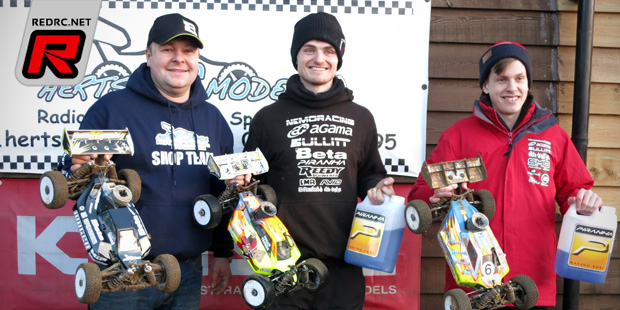 The 8th round of the Herts Nitro Model Club Winter Series was held in wet, cold and frozen weather conditions that still attracted a turnout of 60 racers. Jack Embling and Simon Reeves took the TQ positions in Nitro Buggy and E-Buggy but it was Tony Truman who ultimately won the Nitro A-final in front of Reeves and Oliver Currie. In the electric class Simon Reeves was able to defend the top position from Richard Cousins and Nigel Morris.
Click here to view the top 2 of the electric class
Monday, January 26, 2015
Just as he did last year, only to lose out on the conveted title to arch rival Ryan Cavalieri, Ryan Maifield heads into the final round of racing at the Reedy Race of Champions holding the advantage, albeit just by a single point.  The penultimate round witnessed the first race where title contenders Maifield and Tebo went up against one another in 4WD with the former coming out on top.  While the win would go to HB's Drew Moller, Maifield, having started two rows ahead of Tebo, would come out with a second with Tebo third 4.3-seconds back.  With defending Champion Cavalieri finishing his encounter of the round 2nd behind Travis Amezcua, it means the 21st running of the event will crown an all new champion with that to be decided between Maifield and Tebo.
Continue reading this report here or view our full event coverage here.
Monday, January 26, 2015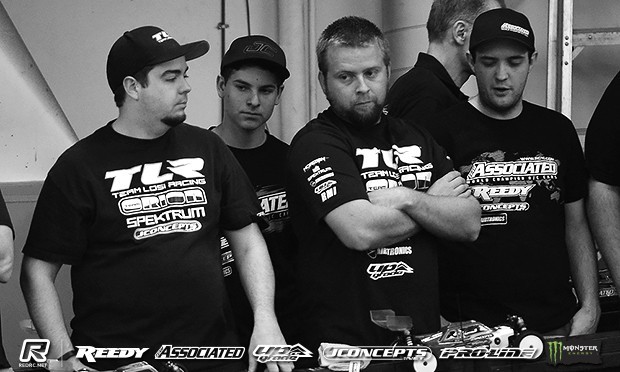 With just two of the 12 rounds of heads up racing remaining, the battle for the 21st running of the Reedy Race of Champions at OCRC Raceway in Huntington Beach is hotting up into a duel between Jared Tebo and Ryan Maifield.  Round 4 of 4WD would see both drivers bring their tally's to 3 wins which when dropped scores are taken into account puts the pair equal at the top of the points although now it is Maifield who holds the tie-break advantage due to him having the fastest combined 2WD & 4WD race times.  For defending champion Ryan Cavalieri the round saw him lose further ground, while impressive from 9th on the grid, he could only finish 2nd with his hopes of a hat trick of consecutive Reedy titles starting to fade. Interestingly the penultimate round will be the first time in 4WD that Maifield and Tebo start in the same race, with the grid draw putting the TLR driver 4th and the Kyosho 8th.
Continue reading this report here or view our full event coverage here.
Sunday, January 25, 2015