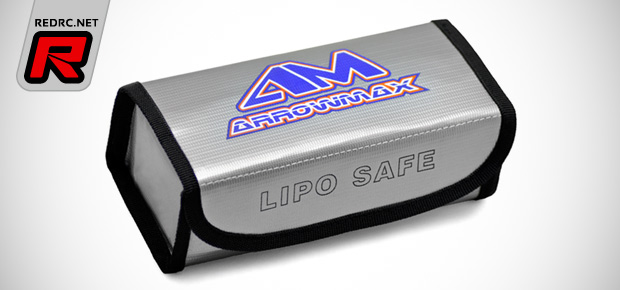 Arrowmax introduce their updated LiPo safety bag for charging and storing LiPo batteries packs. The bag is made from fire-resistant fabric and minimise the harm to the pit table and surrounding areas in case a LiPo pack goes up in flames during charging or storage. Large velcro straps keep the lid and the two inner lashes closed securely. Measuring 185x75x60mm the bag is printed with the Arrowmax logo and it sports white lining.
Source: Arrowmax [arrowmax-rc.com]
Thursday, October 30, 2014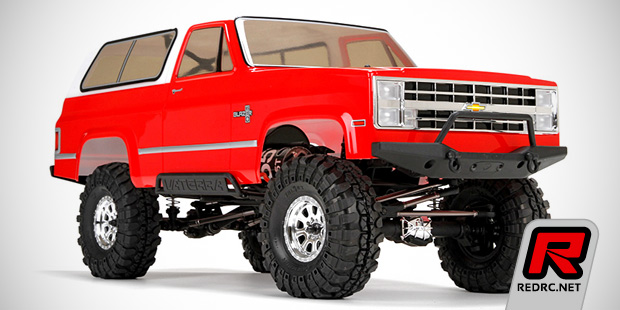 Vaterra's lifted 1986 Chevrolet K-5 Blazer Ascender kit is soon also available as an RTR variant including a Dynamite brushed crawler motor, waterproof speed controller and Spektrum DX2E transmitter. The vehicle is based on the Ascender chassis that features stamped steel ladder frames, metal gear transmission, an adjustable wheelbase and a long-travel suspension. The package is topped-off by a replica Blazer bodyshell and grippy scale tyres.
Click here to view more photos
Thursday, October 30, 2014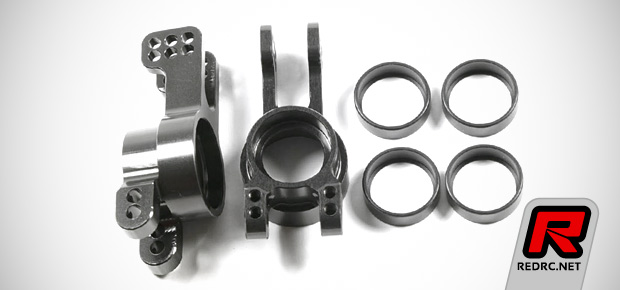 SWorkz have new aluminium option parts for the S350 series of 1/8th scale vehicles available. First up are rear hub carriers with various mounting positions for the upper camber links and the lower hinge pins. Coming as pair the hubs include reduction bushings for the ball bearings and they are gun metal anodised. The second new part is an upper steering bellcrank lever for the PSP system. Adding some visual impact the lever also increased the stability for improved steering input and precision. Last but not least are closed Pro Series wheel nuts. They not only look the part but also protect the wheel axle threads from the influence of dust, dirt and moisture. Again coming gun metal anodised they match the remainder of SWorkz' alloy option parts.
Click here to view the other new parts
Thursday, October 30, 2014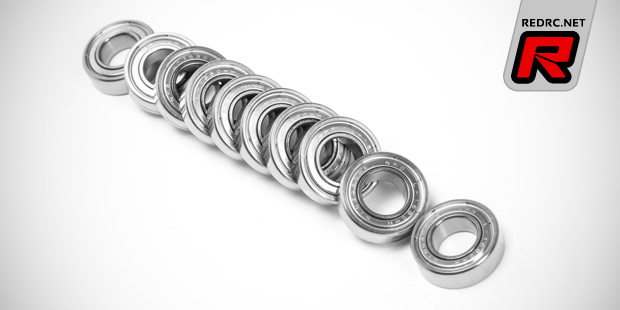 Mugen Seiki have two new ball bearings sets for the MBX7R available. First up are 8x16x5mm NMB ball races, they improve the drivetrain efficiency by creating a smoother operation compared to the kit bearings. Also new are 5x10x4mm NMB bearings for the clutch of the MBX7R, MBX7 and MBX7T. The high-quality ball races improve the clutch action and make for improved efficiency. Both the 8x16mm and 5x10mm bearings sport metal shields and come as 10-piece sets.
Click here to view the other new bearing set
Thursday, October 30, 2014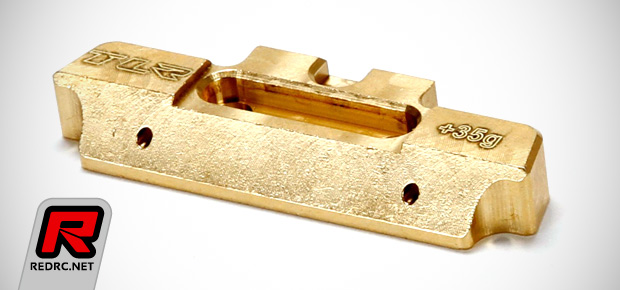 Available soon from Team Losi Racing is a +35g brass hinge pin brace for mid motor converted 22-series vehicles such as the 22 2.0, 22T and 22SCT. The parts is machined from heavy brass material to add weight in the motor area for improved traction on low to medium bite surfaces, without having to fear the pendulum effect weights placed behind the rear axle can show. Laser-etched writings make identification easy.
Source: TLR [tlracing.com]
Thursday, October 30, 2014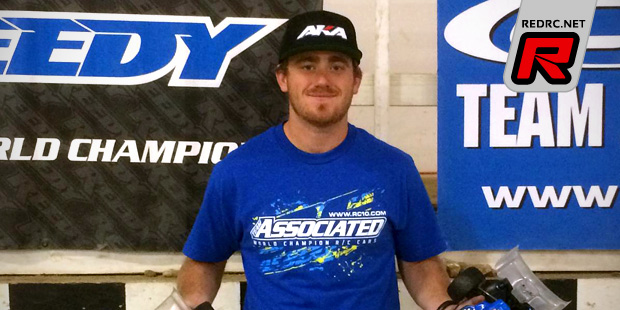 Traction Hobbies of Reno, NV hosted the second annual Winter Takes All race. Three rounds of qualifying were run on Saturday, rocket-round style, with Triple-A mains run on Sunday with eight drivers qualifying directly to the main and two bumping from lower mains. Drivers flocked from all over the Northern California/Nevada area to see who would take the overall win along with the cash purse put up by Traction Hobbies owner Justin Clark. Qualifying went perfect for Chris Jarosz, who took the TQ in both the 2WD and 4WD Modified classes, setting the fastest times in round 2 of qualifying on the indoor clay track. A1's of both classes would be wire-to-wire victories for Jarosz. A2 of 2WD would be another victory for Jarosz to take the overall title. A2 of 4WD proved to be more difficult for Jarosz. An early mistake put him down to the third spot, and it was an intense battle before he would come out on top, giving Jarosz his second victory of the weekend.
Source: Team Associated [teamassociated.com]
Thursday, October 30, 2014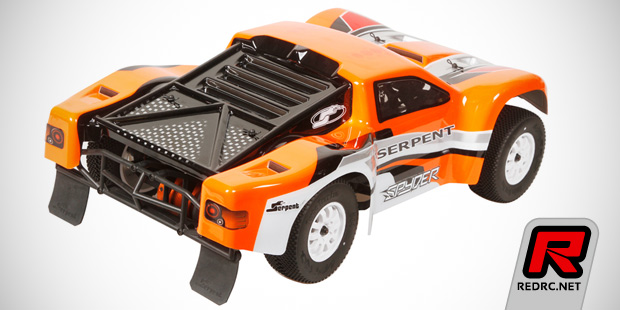 Following the full-blown race version Serpent now introduce a ready-to-run package based off of the competition variant. Using the same suspension geometry and composite tub chassis as the top-of-the-foodchain kit, the RTR comes with slightly simplified shock absorber units with plastic top caps, a gear differential unit and a solid slipper clutch with the kit being easily upgraded to a ball diff and slipper if conditions call for it. Also part of the RTR version is a 9T sensorless brushless motor with 45A speed controller, a 2.4GHz 10-model memory transmitter, pre-glued high-grip tyres and a pre-decorated bodyshell.
Click here to view the features and more photos
Wednesday, October 29, 2014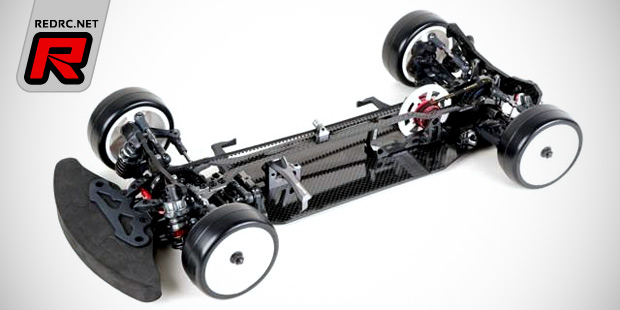 VBC Racing Australia have first images of the forthcoming Wildfire D07 electric touring car kit available. The latest incarnation of the company's touring car platform will be based on a 2.5mm carbon fibre main chassis with 2mm upperdeck and an innovative "floating" steering design that decouples the steering bellcrank posts from the chassis to allow for improved front flex characteristics. A sturdy aluminium centre pod still makes for accurate steering response while different flex settings help to fine-tune the setup. Also new to the D07 is an improved motor mount for optimised left-to-right flex characteristics of the rear part of the chassis while the new Zero Tolerance Pulley system makes for an ultra smooth drivetrain operation. Other new features include an updated anti-roll bar mount on the A-arms, a new suspension geometry using carbon composite parts, all-new 3.5mm carbon shock towers, new centre arm mounts with adjustable flex settings and more.
Click here to view the features and more photos
Wednesday, October 29, 2014