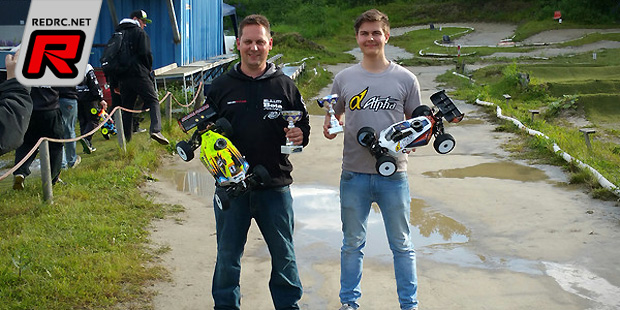 Ari Heinonen continued his recent great form by taking the TQ and victory in the latest round of the National Championships in his native Finland. Ari was on top of his game again and was able to place his buggy at the top of the pile.
Source: Nemo Racing [nemoracing.com]
Wednesday, July 29, 2015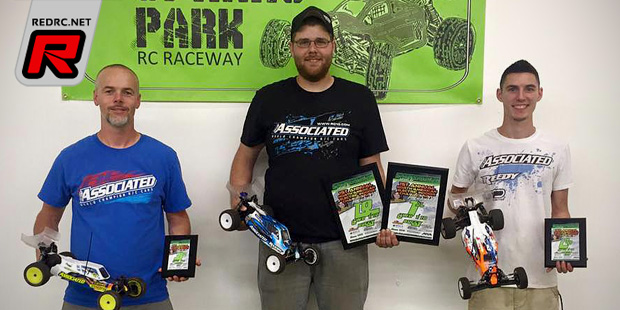 The 1st annual North American Indoor Championships were held at Sparks Park in Columbus, Ohio and the event brought in approximately 160 entries across the ten classes that were offered. In Modified 2WD Buggy, Brandon Marsh took the TQ and in the A-main he was able to lead from start to finish to take the win while Brandon Weiland and Eric Clark came in second and third respectively, making for a Team Associated podium lock-out.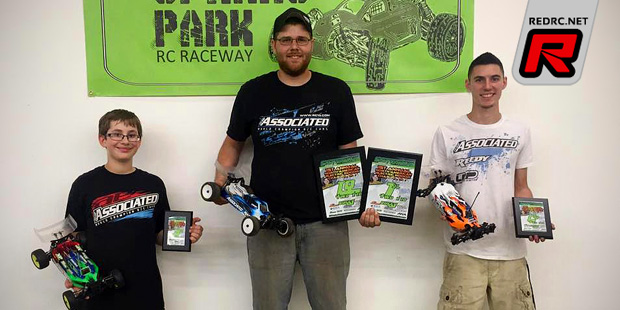 In Modified 4WD Buggy again Brandon Marsh took the TQ. In the main event Marsh was able to lead wire-to-wire to take the win while Brandon Weiland and Nathan Clark came in second and third respectively, thus giving Team Associated the second sweep of the weekend.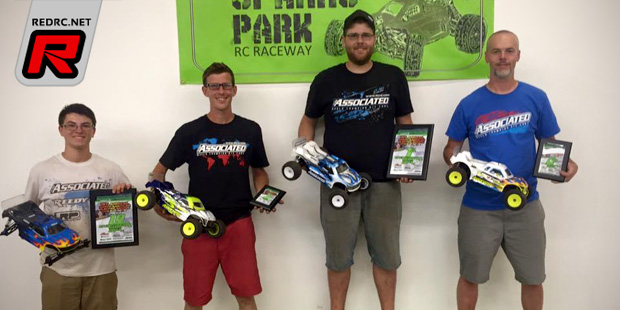 In Modified Truck, Austin Weiland TQ'd. The main event started with an early battle between Austin and Marsh, but after a small mistake by Austin, Marsh was able to take the lead and never look back. Eric Clark moved into second and Galen McCreary third.
Source: Team Associated [teamassociated.com]
Wednesday, July 29, 2015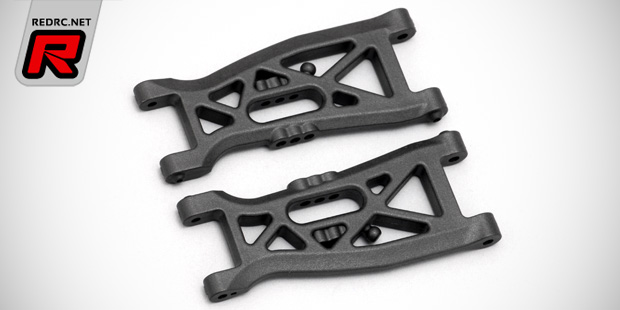 New from Yokomo come graphite suspension parts for the YZ-2 1/10th 2WD buggy. Available are front suspension arms in flat and gullwing specification, C-hubs as well as steering blocks all of which are made in a harder graphite-reinforced composite that was developed with this year's IFMAR World Championships at the Japanese Yatabe Arena in mind. As for the different design front arms the flat type was developed to offer maximum stability while the gullwing arm gives more steering.
Click here to view the other new parts
Wednesday, July 29, 2015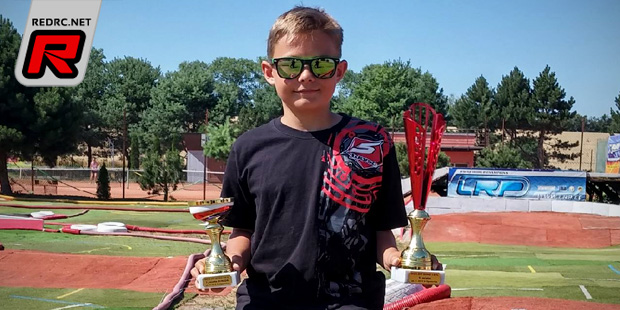 The second round of the Czech Nitro Buggy Championship was held on the astro turf track in Opatovice. Young Milan Mudra took the win in the Junior category and also the overall victory, leaving Petr Katovsky and Kaja Novotny behind in 2nd and 3rd respectively.
Source: FX Engines [fx-engines.com]
Wednesday, July 29, 2015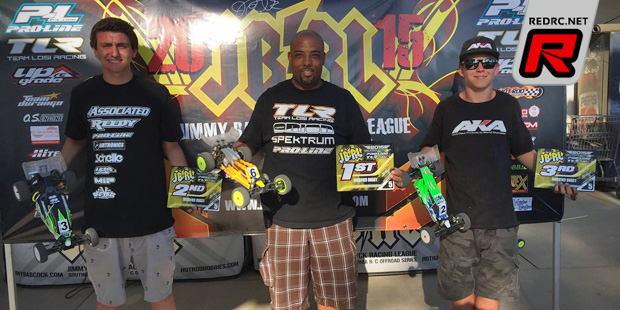 Round five of the Jimmy Babcock Racing League Electric Series was held at Pegasus Hobbies in Montclair, California over the weekend. In the premier class of 2WD Modified Buggy Shawn Blackwell Sr. took the win from Jake Mayo in 2nd and Jeremy Hase Jr. in 3rd.
Click here to continue reading
Wednesday, July 29, 2015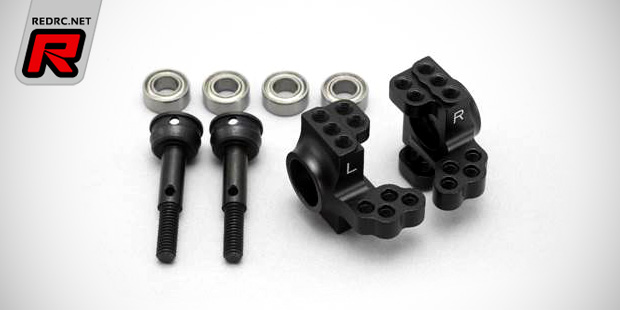 Made for Yokomo's Drift Package cars with RWD option is the new aluminium steering knuckle set. The knuckles feature five different upper camber link positions and four different steering Ackermann points to allows for a wide range of steering scrub, trail, kingpin angle and Ackermann adjustments including positive and negative Ackermann settings. Included in the set are the left and right steering blocks, 1050 bearings and new wheel axles.
Click here to view another photo
Wednesday, July 29, 2015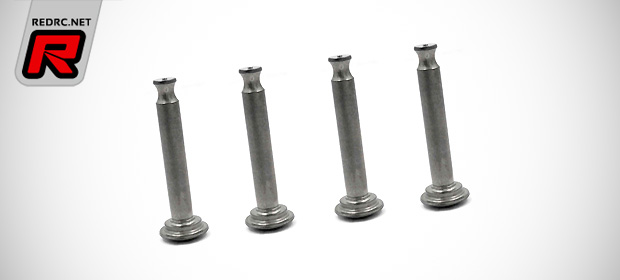 T-Works have new lower shock mount pins for the HB D812 and Serpent Cobra buggies available. Cut from titanium the parts offer a low weight and a high rigidity and the D812 pins also act as anti-roll bar mounts. The shafts come in sets of four pieces.
Source: T-Works [rc-tworks.com]
Tuesday, July 28, 2015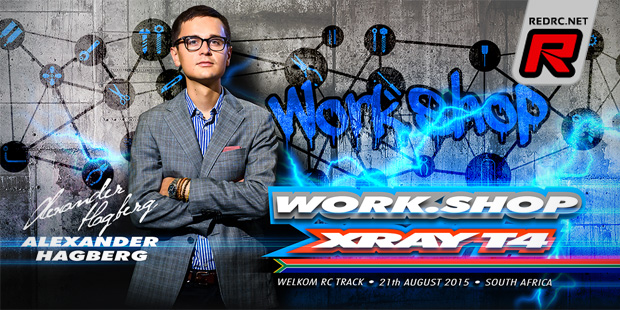 Xray South Africa have announced the Xray Work.Shop that will be held on August 21st at the Welkom RC Track track in Cnr of Newby & Neser Str Welkom. Special guest Alexander Hagberg will teach all the latest and finest setup tips for the Xray T4'15 and participating at the workshop is free for everyone. If you wish to participate simply drop a mail to antonio@xray-sa.co.za.
Source: Xray [teamxray.com]
Tuesday, July 28, 2015