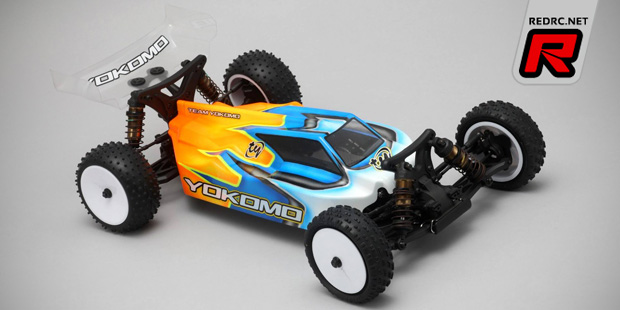 During this week's 2015 IFMAR Electric Offroad World Championships Yokomo's all-new YZ-4 1/10th 4WD electric off-road buggy is making a first public appearance following its stealthy debut at the opening round of the 2015/16 EOS. Designed by Shin Adachi the car features a totally new drivetrain layout with dual 2WD-style 3-gear transmissions on ether end which are coupled by dual drivebelts to replace the shaft drivetrain of the proven yet slightly ageing B-Max4 car. The setup allows to use very small gear differentials without having to worry skipping belts while the overall design also results in an easier to drive and less edgy car.
Tuesday, October 6, 2015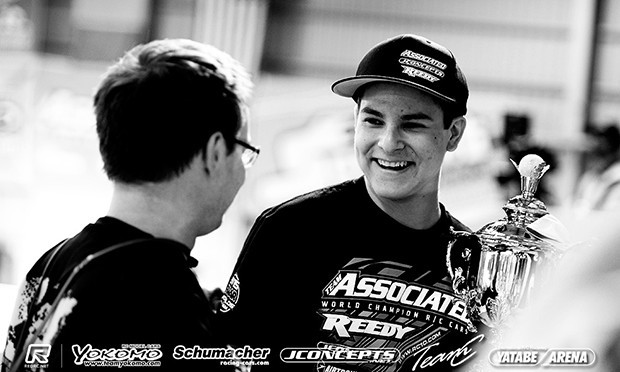 His team-manager Brent Theilke has been using the hashtag #dreamsdocometrue to highlight the progress of his young driver's first World Championship and the use of wording couldn't have turned out to be more true with Spencer Rikvin your new 1:10 2WD World Champion. The 16-year-old claimed the sport's greatest accolade by backing up his A2 win with an even more impressive drive to victory in A3.  Going up for the title against two of the sport's biggest names, Jared Tebo and Ryan Cavalieri, what was special about the performance in Japan was how the new star of offroad dealt with the pressure of the occasion like water off a duck's back.  Behind Rivkin, outgoing champion Tebo would claim second overall with Cavalieri completing the podium at the Yatabe Arena.
Continue reading this report here or view our full coverage here.
Tuesday, October 6, 2015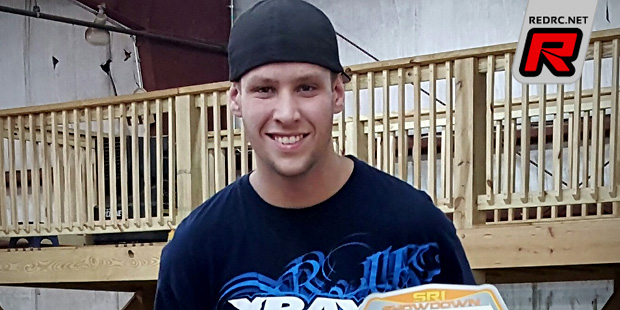 The Scale Reproduction Inc Showdown 29th Anniversary race was recently held with a 170+ entries field. Noah Ford would take the round TQs in the first and third qualifier to grab the overall TQ in the 1/8th E-Buggy class. In the opening A-main Noah would lead from tone to tone only to run into problems in the second A-main. An early mistake let Ford drop to fourth place. With three minutes to go Noah had moved up to second place and he started to close in on the leader who would make a mistake with two laps to go. Ford was able to get around and hold the lead for the remainder of the race to take the overall class win.
Source: Xray [teamxray.com]
Tuesday, October 6, 2015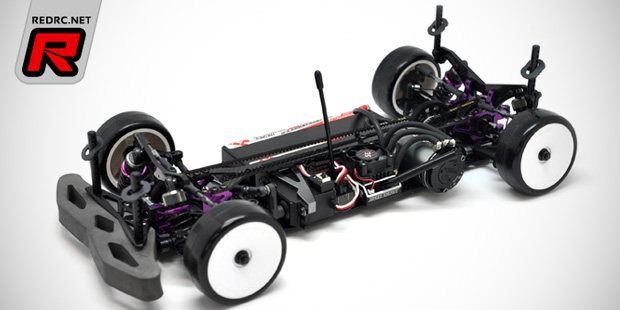 Coming soon from Japanese company Tresrey is the HT-1 1/10th 4WD touring car kit. The car is based on a carbon fibre double deck chassis, it features purple anodised front and rear shock towers as well as gun metal anodised aluminium suspension and layshaft mounts. Also part of the package are an aluminium floating steering servo mount as well as a rail-type steering assembly. More details should become available in time for the release.
Tuesday, October 6, 2015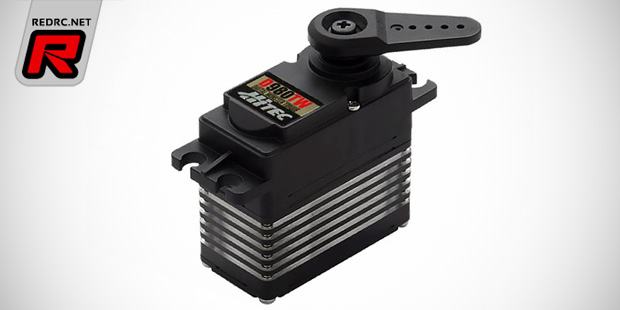 New from Hitec come the D-series 32-bit high-performance digital servos for a range of 1/8th and 1/10th scale applications. Combining high-resolution and ultra-response technology with a 32-bit MCU and 12-bit ADC for programmability and flexibility, these servos are meant to deliver significantly smoother movement. The speedy, powerful line operates on a wide 4.8 to 8.4 voltage range, allowing use with any common battery chemistry without the need for adapters or regulators. The dual ball-raced coreless motor servos come in several specifications, as are the titanium gear D-980TW (0.14s/44kg-cm), D-950TW (0.14s/35kg-cm), D-945TW (0.10s/23kg-cm), and D-940TW (0.06s/16.5kg-cm). Also available are the metal geared D-645MW (0.17s/13kg-cm) and the D-625MW (0.13s/10kg-cm). All sport industry standard dimensions with the 9-series servo featuring a heatsink middle case while the 6-series servo sporting a plain mid section.
Tuesday, October 6, 2015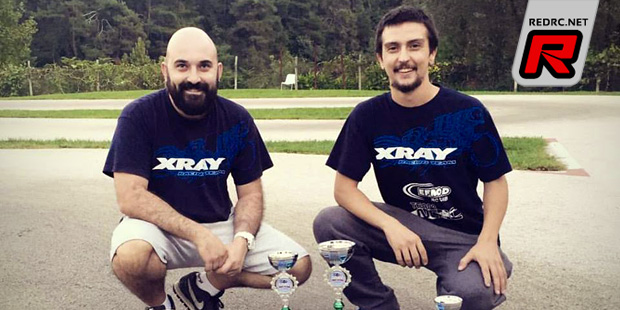 Round four of the TORC Championship was held in Bumod Bursa, Turkey in rather cool weather conditions compared to the previous round. In the 1/10th 200mm Nitro Touring class Mustafa Alp put himself directly into the final thanks to TQing three qualifiers. At the start of the main final Mustafa took off with no problems and he quickly opened a gap to his competitors. Some 25 minutes into the race he came in for a scheduled stop for tyres and at the end Mustafa brought home the win after a very clean run and with an 8 laps margin on runner-up Halit Korpe who suffered from several flameouts during the race. Mert Ekinci would round out the top 3 result.
Tuesday, October 6, 2015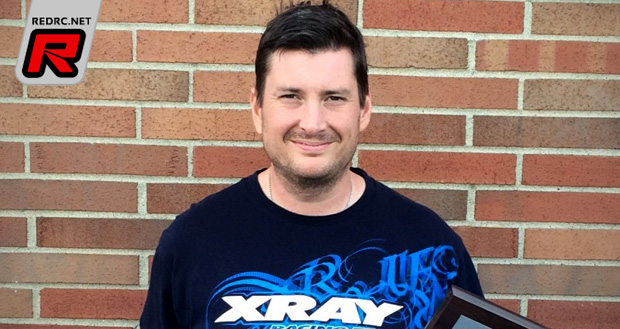 The 21st Annual Halloween Classic was hosted at its home track "The Gate" in Cleveland, Ohio. This race has gone back many years as the warm-up to the Cleveland Indoor Champs and has grown its own prestige over time. The event format was official practice on Friday with three qualifiers on Saturday and one qualifier on Sunday followed by the finals. This year's race sold out at 220 entries in 90 minutes when the online sign-ups opened. This year it was considered the first race of carpet season for the US so it is fair to say that there was some big anticipation for everyone to get back to carpet racing.
Tuesday, October 6, 2015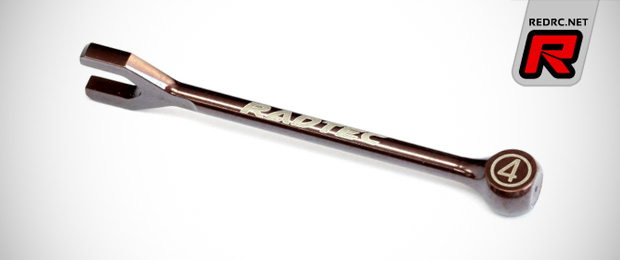 Coming from Radtec is a narrow 4mm turnbuckle wrench. Machined from spring steel and sporting laser-etched markings for easy identification the wrench comes in handy especially when adjusting the camber links on pan cars as the narrow design does not interfere with the ball cups and inner camber arms.
Tuesday, October 6, 2015